Raising the bar for local herbal supplements

THERE was a time when all you needed to cure an illness was pick some herbs and leaves from your garden. You either boiled it into a tonic or ground it into a poultice to soothe the pain or cleanse a wound. Everything was all natural; nothing was made synthetically. In a way, this is the reason behind Herbanext Inc., a 100 percent Filipino-owned company based in Bago City, Negros Occidental, that produces nature-based products that promote and maintain health.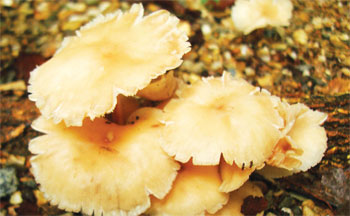 Herbanext president Philip Cruz says he hopes to raise the quality and efficacy of local food supplements, generate a new export industry that is environment-friendly and carbon-positive, and create a sustainable means of livelihood for marginalized communities in Negros through the organic farming of herbs.
The Philippines being home to 1,500 species of medicinal plants, of which 850 have been documented to being used traditionally and 120 have been validated scientifically for safety and efficiency, Cruz sees the business of health and food supplements to be the future for Filipino farmers and the local herbal industry.
Last year, Herbanext completed the first dedicated extraction and spray drying facility for medicinal herbs in the country. At its state-of-the art manufacturing plant, Herbanext now produces extracts of roselle, lagundi, banaba, balbas pusa, takip kuhol, sinta, ampalaya, luya, luyang dilaw, mayana, tsaang gubat and tawa-tawa.
"The Philippine herbal industry still relies heavily on the use of powdered herbs as raw materials, while industries in other countries like Malaysia, Thailand, Indonesia and Vietnam are already using standardized extracts which guarantee the content of active components. Philippine companies export raw materials like dried banaba leaves, dried mangosteen pericar and elemi gum for processing in other countries. These products are then reimported by local companies in processed form at a much higher cost," Cruz says.
With its capability to produce high quality locally produced extracts, Cruz says, "Over the long term, the Philippine herbal industry will have a good chance of breaking into the $100 billion global market for natural products, which is growing by at least 12 percent annually. It is projected that by 2050, the global herbal industry will be worth $5 trillion."
Cruz, who is a 2005 The Outstanding Young Men (TOYM) awardee and a member of the Philippine Inventor's Society, found himself in the business of producing health supplements by accident. An aquaculturist by profession, he took personal interest into the medicinal properties of Ganoderma lucidum, a type of mushroom, which is popular in Chinese medical lore as an elixir to long life. He was diagnosed in 1995 as having high levels of cholesterol and uric acid. He experimented with Ganoderma on himself and he says, "It worked very well for me, and I was able to remove all medications in a year's time." All the symptoms of gout that he was suffering from dissipated, while his cholesterol levels also went down.
When his friends learned of the results of his experiments with Ganoderma, they wanted him to supply them with the product, too. That gave him the push to set up Herbanext (www.herbanext.com) in 2002 for the large-scale propagation of Ganoderma in Negros Occidental. Then he worked with doctors and scientists to develop the Gano Defense System, a line of therapeutic supplements containing Ganoderma lucidum combined with a variety of herbs to address specific ailments.
Ganoderma is more popularly known in China and Korea as Lingzhi, or the "mushroom of herb and immortality," and Reishi in Japan. For its many therapeutic properties, it has earned the name as "king of herbs." It is presently used as an antioxidant, anticancer, antihypertension, antilipid treatment, as well as treatment for other diseases. It has been found to be beneficial in anti-HIV treatments, as well as showing antitumor properties. It protects the liver and is effective in the treatment of hepatitis-B. It limits the development of histamines in allergic reactions. It helps prevent strokes, heart attack and other conditions related with poor blood circulation.
Herbanext manufactures the Ganomax Defense System that uses Ganoderma as the base of its products. Ganomax R is recommended for people with poor immune function, high cholesterol and hypertension. GlucoGan is for diabetes prevention and control. FlamaGan is aimed at minimizing the effects of arthritis, HepaGan is for liver problems, while GanoGest is for stomach pain associated with ulcer and indigestion.
There is also a line of Gano Tea. It includes Gano Reishi Tea for a healthy heart, liver, and digestive system; Gano Vigo Tea to boost the immune system and aid in fighting stress; Gano Relax Tea, an antidote to stress from mental exhaustion and helps promote restful sleep; Gano Slim Tea, which increases metabolism and help burn fat safely and naturally; Gano Cleanse Tea, which improves circulation and helps the body rid itself of excess fluids; and Gano Cardio Tea, which improves blood circulation and greatly reduces the amount of fatty substances such as cholesterol and triglycerides. There is also Gano Trim, a sugar-free coffee made with organic Arabica beans and Ganoderma lucidum.
In Metro Manila the Herbanext product range is available at the Daily Apple Store (www.dailyapplestore.com) in Robinsons Galleria
Cruz says Herbanext's product line is much more efficacious than ordinary herbal food supplements because he uses extracts, which is of better quality than powdered herbs. Synthetic ingredients and non-organic products are avoided.
The Herbanext facility in Bago City is the first food supplement manufacturer in Western Visayas to be accredited for Good Manufacturing Practices by the Food and Drug Administration, and Halal by the Islamic Dawah Council of the Philippines. The company runs a 5-hectare nursery and 10-hectare farm where it sources its naturally grown medicinal herbs and plants. By working with organized farmers groups throughout Negros Island, the company is assured of supply and is able to trace the quality of raw materials, as well as providing sustained livelihood for farmers.
In line with its efforts to take the lead in establishing standards for quality and efficacy in the herbal industry, it has established linkages with research institutions. At present, Cruz is working with the Department of Science and Technology in the development of various quantitative and qualitative tests for the standardization of herbal extracts.

IN PHOTO -- GANODERMA