The Kamantigue and the Noli
Philip S. Cruz
The Philippine medicinal herb kamantigue, also known as garden balsam, is native to South Asia and Southeast Asia belonging to the family Balsaminaceae (Touch-me-not family). There are several different varieties in terms of the color of the flower, with pink, white, lavender and red as being the most common. To the Spaniards, who made the Philippine islands a colony from 1521-1898, the plant is known as balsamina or madama. In 1753, famous Swedish botanist Carolus Linnaeus gave kamantigue its formal place in plant taxonomy with the scientific name Impatiens balsamina. The genus Impatiens is the Latin word for impatient, alluding to the explosive release of seeds when its ripe seed capsule is touched. It is said that this beautiful flowering herb was already commonly cultivated in the gardens of Europe by the 18th century, probably introduced from India, China, or the Philippines. A similar temperate species from Europe also named by Linnaeus, is called the Impatiens noli-tangere or Western touch-me-not. It is commonly with yellow flowers.
| | |
| --- | --- |
| Impatiens balsamina | Impatiens noli-tangere |
Both the Impatiens balsamina and Impatiens noli-tangere are well known traditional medicinal plants. The former is used in Asia for a variety of ailments such as for contusion, painful inflammation, joint pains, dysmenorrhea, carbuncles, lumbago, eczema, warts, itches and snake bites, while the latter species is used in Europe as an antiseptic, diuretic, emetic, laxative and vulnerary. While interest on the medicinal value of the Western touch-me-not has mostly faded, scientific research on the modern medicinal applications of the garden balsam continues to grow. Recent studies confirm what our forefathers have known long ago - that the kamantigue has strong antimicrobial properties against certain human pathogens, such as Candida albicans and Helicobacter pylori.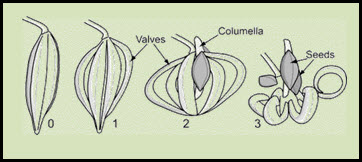 Explosive dehiscence of an Impatiens seed pod at 1 millisecond intervals (Hayashi et al., 2009). Seeds are dispersed 2-3 meters away from the plant.
With little doubt, Philippine national hero Dr. Jose P. Rizal - being a medical doctor, dedicated naturalist, and a garden enthusiast - would have been familiar with the ornamental value and medicinal properties of the kamantigue. As a well travelled scholar in Europe, he too would have known of the closely related species Impatiens noli-tangere.
And so the big question is… could the lowly kamantigue herb be actually the inspiration for the title of Rizal's famous book Noli Me Tangere, which helped fuel the Philippine revolution for independence against Spain? It has been said that the title of Noli me Tangere (Latin for Touch-me-Not) was inspired by the bible verse John 20:13-17 when the newly-risen Christ says to Mary Magdalene: "Touch me not, for I am not yet ascended to my Father." Another suggestion is that the book's theme originally meant "The Social Cancer," as French writer D. Blumenstihl noted that "noli me tangere" is a medical term used by ophthalmologists for cancer of the eyelids. Rizal must have surely told someone how he came about with the title of his book. Perhaps he told a close relative? a friend in Europe? a brother Freemason? a student or a gardener in Dapitan? a katipunero? his publisher? or his fiancée Josephine Bracken? We will likely never know the truth behind this 124 year old minor detail in Philippine history which will be of interest to Filipino botanists, herbalists, and garden hobbyist. But if indeed there is truth to botanical origin then shouldn't the kamantigue deserve to be our national flower instead of the sampaguita, which was proclaimed by American Governor-General Frank Murphy in 1934 during the Commonwealth era?
As we celebrate 2011 as Dr. Jose P. Rizal's 150th birth year, we can only ponder and guess if our beloved national hero would be truly delighted seeing Luneta Park, which he knew as bagumbayan, in full bloom with the beautiful colors and meaningful symbolisms of the kamantigue.