Product Information
CUR-CLEANSE
200 mg Curcumin + 3 mg Piperine Tablet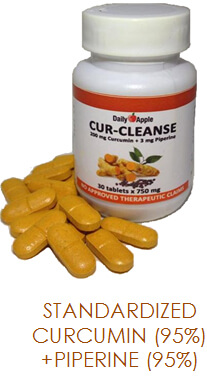 Turmeric (Curcuma longa) or luyang dilaw is a rhizomatous herbaceous perennial plant of the ginger family, Zingiberaceae. It has a large oval rhizome with sessile cylindrical tubers, orange coloured inside. Curcumin, a polyphenolic molecule, is the most bioactive phytochemical in turmeric. Curcumin is identified as the principal curcuminoid which is extensively researched as a powerful natural antioxidant and anti- inflammatory that leads to the improvement of cardiovascular health, digestive health, brain, liver, lung, and kidney function, joint inflammation suppression, reduction of high blood sugar and lipids, cancer prevention, and strengthening the immune system. Curcumin has a comprehensive pharmacological function, good safety and innocuity, but its low bioavailability limits its clinical application and usefulness.
Black pepper (Piper nigrum) or paminta is a perennial climbing vine of the Piperaceaefamily.Black pepper is the primary source of an alkaloid known as piperine which serves as a bio-enhancer to increase the absorption rates and activity of curcumin by significantly preventing the rapid elimination of curcumin from the body.
CUR-CLEANSE
combines Curcuminand Piperine to increase absorption or bioavailability. Studies have shown that piperine can increase the bioavailability of curcumin by up to 2000% thereby maximizing its health benefits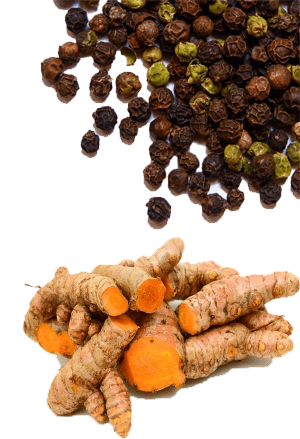 A POWERFUL ANTIOXIDANT & NUTRACEUTICAL SUPPLEMENT
diminishes oxidative damage of cells to help lessen risk of cancer, metabolic syndrome, and other diseases
supports healthy inflammatory response and pain relief
supports healthy brain, cardiovascular, digestive, lung, kidney, and liver functions
reduces lipid and cholesterol levels
reduces risk of diabetes and its complications
boosts immune function
alleviates cognitive decline associated with aging
improves blood flow
promotes healthy joints and prevents arthritis
Promotes adaptogenic activity or stress relief
promotes healthy and beautiful skin
Compelling studies by numerous extensive research and medical literature demonstrate such clinical uses with the following investigated mechanisms of action: down regulation of pro-inflammatory COX-2 and iNOS enzymes, inhibition of TNF-a, cytokines, interleukins, monocyte chemoattractant and migration inhibitory proteins, suppresion of NF-kB activation, mitogen-activated Janus kinases and Protein Kinase C, blockade of activation of capsaicin receptor for nociception, inihibits angiogenesis, inhibition of arachidonic acid metabolism via lipoxygenase and free radical scavenging.
---
TURMERIC AS A TRADITIONAL MEDICINE: Ayurvedic practice recognized turmeric to have many medicinal properties including strengthening the overall energy of the body, treating respiratory conditions like asthma, relieving abdominal distention or flatulence, dispelling worms, improving digestion, detoxifying blood and improving blood circulation, remedy for skin conditions, relieving allergies, treating liver disorders, regulating menstruation, dissolving gallstones, treating cough and sinusitis, and relieving inflammatory conditions such as rheumatoid arthritis. Traditional Chinese medicine used turmeric for conditions associated with abdominal pain. Other Asian countries used it as an antiseptic for cuts, burns, and bruises, and as an antibacterial agent. Hindus used turmeric as an anti-inflammatory agent, antiseptic to cleanse wounds and promote healing by applying it on a piece of burnt cloth that is placed over a wound and also treatment for gastrointestinal discomfort associated with irritable bowel syndrome.
---
Supplement Facts

Serving size: 1 Caplet (750 mg)
Servings per Container: 30

Amount per serving
%
Daily Value
Turmeric (Curcuma longa) Root Powder
340 mg
*

Turmeric (Curcuma longa) Root Extract
[standardized to 95% Curcuminoids]

200 mg
*

Black Pepper (Piper nigrum) Extract
[standardized to 95% Piperine]

3 mg
*
* % Daily Value not established
Other ingredients: turmeric powder, cornstarch, liquid glucose, magnesium stearate
Suggested Adult Use: Take 1 caplet of Cur-Cleanse 15-20 minutes after each meal or as recommended by your health care specialist.
The recommended dosage for oral supplementation of Curcumin with Piperine as an absorption enhancer is 80-500 mg per day to attain effective systemic levels. Curcumin with Piperine has a wide safety threshold with side effects that are uncommon and usually limited to mild gastrointestinal upset.

Potential interactions: Iron supplements, anticoagulants, antiplatelets, NSAIDs, vinblastine, ciprofloxacin, cotrimoxazole
Consult your doctor before taking this supplement if pregnant, nursing, or taking prescription drugs.
References:
https://www.ncbi.nlm.nih.gov/books/NBK92752/
https://examine.com/supplements/curcumin/
Surh YJ, Chun KS, Cha HH, et al. Mutat Res. 2001 Sep 1; 480-481:243-68
Abe Y, Hashimoto S, Horie T. Pharmacol Res. 1999 Jan; 39 (1): 41-7
Liu JY, Lin SJ, Lin JK. Carcinogenesis.1993 May; 14(5): 857-61
Shimatsu A, Kakeya H, Imaizumi A, et al. Anti-Aging Med. 2012; 9(1):43-51
Goel A, Kunnumakkara AB, Aggarwal BB. Biochem Pharmacol. 2008 Feb 15; 75 (4): 787-809.Epub 2007 Aug 19