Elixir for life grows in The Quiet Place
By WINNIE VELASQUEZ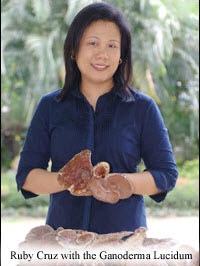 In The Quiet Place, a vast agricultural land about 20 minutes drive from Bacolod City that is planted to rice and fruit trees, orchids and ornamentals are in full bloom the whole year round and a koi pond make the resort-spa developed by the Cruz family the perfect hideaway for those tired of life on the fast lane.
But the resort-spa that is becoming known for the massage done by hilots well-versed in traditional Filipino techniques is not the only reason why a visit to The Quiet Place is worth putting on one's travel itinerary. The Ganoderma Lucidum, a mushroom widely considered in Asia as an elixir of life, grows in a corner of The Quiet Place.
A number of low, wooden structures house row upon row of Ganoderma Lucidum, the large brown mushrooms that have been highly valued all over Asia for 4,000 years for its medicinal properties. In Japan it is known as Reishi and in Korea as Yeongji, Lingzhi.
The Chinese book on medicine, the 2,000 year old Shen Nong's Herbal Classic classifies 365 species of roots, grass, woods, furs, animals and stones into three categories of herbal medicine. Ganoderma Lucidum is ranked number one in the highest category of herbs considered effective for the proper maintenance of the body's balance as well as a potent cure for multiple ailments without any side effects.
Aquaculturist Philip Cruz, 2006 TOYM awardee came across the mushroom in his travels around Asia. "I kept hearing about this wonder plant whose medicinal properties were widely talked about so I decided to bring some home. It so happened that Dr. Regio Sales, a barrio doctor practicing integrative medicine here in Bacolod had himself been doing research on the Ganoderema."
Philip Cruz put up the facility for the first large-scale propagation of the Ganoderma mushroom in Negros Occidental. Then he worked with Sr. Sales to develop the Gano Defense System, a line of therapeutic supplements containing Ganoderma Lucidum extract for daily maintenance, and in combination with other herbs to address specific ailments and weaknesses of the body.
The next challenge that faced Cruz and Sales was manufacturing the supplement in large quatities and finding a market for it. Philip's wife Ruby, a highly successful agri-buisness entrepreneur entered the picture. To her fell the task of developing an extensive network to market the supplements in the Gano Defense System. "We have long stopped taking conventional western medicine especially antibiotics so Philip's discovery of Ganoderma in his travels and Dr. Sales' work came together at just the right time," she said.
Chinese medical lore sating back thousands of years attestto the Ganoderma's medicinalpeoperties. It is a source of biologically active polyssacharides, tripertines and other bioactive compounds that give it anti-tumor, anti-allergenic, anti-inflammatory, anti-viral, anti-fungal, anti-hypertensive, anti-hypotensive and anti-parasitic properties. It inhibits platelet aggregations, thereby lowering blood pressure, cholesterol and blood sugar. It is a blood pressure stabilizer, anti-oxidant, analgesic and a tonic for the kidney and nerves.
Its use as an aid for fatigue and altitude sickness has been in evidence for five millenia. In 1991, when the mummy of Oetzi, the "Ice Man" was discovered embedded in in the glaciers of the Alpine region between Italy and Austria, his pack contained two species of polypores. Carbon dating established him to have lived 5,000 years ago. Himalayan guides have likewise been using this mushroom for centuries to combat high-altitude sickness.
Before undertaking large-scale propagation of the Ganoderma, Cruz tried the mushroom himself. "I was my own guinea pig. I boiled it, made a decoction and drank it long enough to be able to test its efficacy," he said adding that after a time the painful symptoms of gout he had been suffering eased as his blood sugar also declined.
The bedrock of the GDS is Ganomax, containing a blend of two strains of the Ganoderma that had undergone hot water extraction and dehydration at 70°C to ensure potency. Taken regularly as a supplement, Ganomax lowers cholesterol, counters hypersensitivity, strengthens the immune system and helps prevent strokes and heart attacks. For cancer treatment support, Ganomax 5:1 is also available, it is five times more potent than Ganomax.
Others in the GDS lineup are: Hepagan, which combines Ganoderma with the most potent liver-enhancing botanical extracts found in the Philippines: Curcuma, Mirabilus and Centella; Glucogan with Ganoderma enhancing the healing potency of the six important herbs known to lower blood sugar levels, activate insulin receptors, improve circulation, lower cholesterol and preventing complications from diabetes: Ganoderma Lucidum, Banaba, Ampalaya, Curcuma, Cinnamon and Indian Lilac; Ganogest, a formulation of Ganoderma with herbs known to support proper digestion: Ganoderma Lucidum, Cinnamon, Tsaang Gubat and Ginger; and Flamagan, a tandem of Ganoderma with herbs known to relieve arthritis pain and strengthen the healing ability of the body.
The Gano Defense System is available at The Daily Apple, D. C. Cruz bldg. along Magsaysay avenue and at Rose Pharmacy and Negros Grace Drugstore.
For more information on Ganoderma Lucidum and the GDS, visit www.dailyapple.com.ph or call 432 2234.
http://www.malaya.com.ph/sep29/livi1.htm