DOST's RICE paves way for inventors to showcase technologies
Philippine Information Agency
By Lilibeth A. French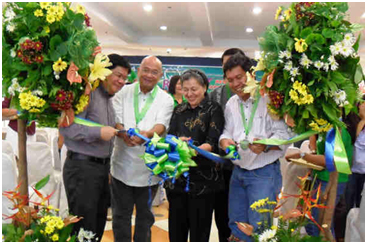 DOST RICE 2011 INVENTION CONTEST & EXHIBITS. DOST Undersecretary Dr. Carol Yorobe assisted by Director Rowen Gelonga of DOST 6, Victor Facultad, Executive Assistant of the City Mayor and Mr. Philip Cruz, Inventor and Entrepreneur cuts the ceremonial ribbon during the opening of the event at Amigo Plaza Mall, Iloilo City, last October 19, 2011. Mr. Philip Cruz delivered the keynote message.
The Department of Science and Technology has created an opportunity for inventors in the region to showcase their new inventions, researches and technologies through the first Regional Invention Contest and Exhibits (RICE) which opened October 19 in this city.
"The event is also our way of recognizing our inventors for the technologies that they have developed." said DOST 6 Director Rowen Gelonga. "We are hoping that through this activity the DOST and other government agencies could look for ways to assist them in the commercialization of their inventions and products."
Gelonga said this year's RICE in Western Visayas has attracted 74 entries in the region, just 10 entries short of the 84 entries showcased in last year's Visayas Islands Invention Contest and Exhibit held also in this city participated in by investors and researchers within the Visayas area.
Gelonga said it is also from the 74 participants that the region's entries to the National Invention Contest will be selected. Regional finalists will receive P20,000 and qualifiers P10,000.
The National Invention Contest has six categories that include Invention Category (Tuklas Award); Utility Model Category; Industrial Design Category; Creative Research Category (Likha Award); Student Creative Research Category (Sibol Award) for High School and College.
According to Gelonga the region will not have entries for the Invention and Industrial Design categories in the coming national contest "although there are entries that could qualify particularly in the Industrial Design category but they don't have patents or registration yet."
To qualify in the said categories, entries should be covered by utility patents/registration granted by the Intellectual Property Office.
Out of the 74 entries, 33 of them are participating in the Likha Award, 21 in the Sibol Award for college, 18 for Sibol Award in high school, and 2 in the Utility Model category.
Winners will be known during the awarding and closing ceremonies on October 21 at 2 PM in the same venue of the exhibit at Amigo Plaza Mall.
Aside from Gelonga, the opening ceremonies of the 2011 RICE was attended by DOST Undersecretary Dr. Carol Yorobe, DOST- TAPI Director Engr. Edgar Garcia, and former Vice Mayor Victor Facultad. Inventor and Entrepreneur Mr. Philip Cruz gave the keynote message. (JCM/LAF/PIA-Iloilo)