Bulawan winners awarded
Wednesday, August 3, 2016

The most innovative Negrense products were recognized in the 26th Bulawan Awards of the Association of Negros Producers yesterday.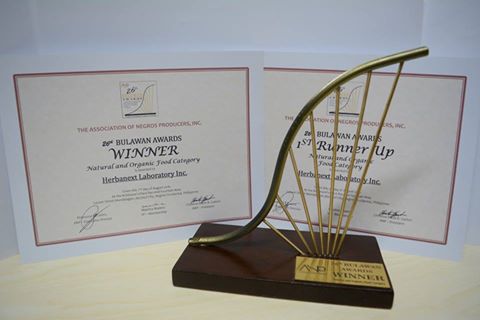 Bulawan Awards acknowledges producers, both large scale and small, for introducing creative innovations that cater to the changing market trends of the local and international market, its Vice President, Maxima Madera said.
She said the Bulawan awarded outstanding members of ANP under the Fashion and Garments, Gifts, Decors and Houseware, Food, Natural and Organics and Tourism sectors with trophies and certificates.
The champions under Fashion and Garments were Vivo Handicrafts (bags category), Ping's Knitwear (garments category) and, K'Arte Handicrafts and Souvenir and Souvenirs (fashion jewelry category).
Silay Export Inc. (tabletop category), Tumandok Crafts Industries (home furnishings and furniture categories) and, 4J Exclusive (luminary category) led the Gifts, Decors and Houseware awards.
Sugarlandia Barquirice bagged both the top awards for the flour and sugar-based categories, and Ading's Gourmet Tuyo won in the deli category.
For the Natural and Organics, Herbanext Laboratories, Inc. received the champion award for food category, while Tribal Miracle Oil, a local producer from Neg. Or. that partners with Indigenous Peoples' communities, won in the non-food category.
Azatri Souvenirs led the novelties and souvenirs category under the Tourism sector.
Madera said that annually, the Negros producers are challenged to innovate and produce something new in their product lines, bringing out the best from each enterprise.
Although faced with trials such as source for raw materials and high labor fees, she said, ANP expects more firms to join the association, especially those from Negros Oriental.
Trade and Industry-Neg. Occ. Division Chief Rachel Nufable said Bulawan encourages producers to improve their products to keep up with market trends.
She said this will also help these companies to sustain and stay in the market by continuously developing their products and improving their crafts.
Madera also said the awards will also draw curiosity among buyers in the Negros Trade Fair in September.
Bulawan will make the winning products more interesting, and the potential investors might see them as innovative and top of the line merchandise that can compete internationally, she added.*KBC